Elemental Microanalysis_Introduction
Consumables and Supplies for all elemental analysers
Elemental Microanalysis grew from small beginnings almost 30 years ago as a micro-analytical laboratory to its current from as
a leading manutacturer and supplier of consumables, supplies and other products ofr Elemental Analysers.
We operate from our purpose-built factory and laboratory complex in Devon UK.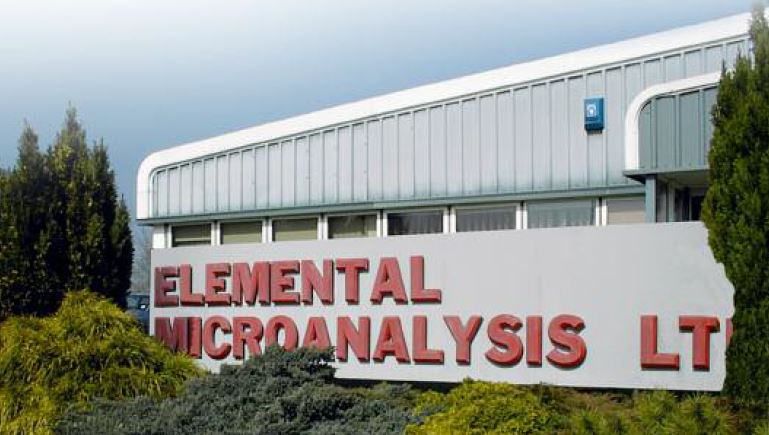 ​
Based in the UK (but with a worldwide reputation) we specialise in producing high quality consumable products for elemental analysers at a great value price.
We have a huge product range – thousands of products covering organic elemental analysis and inorganic elemental analysis, whatever your instrument or model
(LECO®, Thermo®, PerkinElmer®, Sercon®, Exeter®, ELTRA®, Horiba®, Elementar®, EuroVector®, Costech®, Shimadzu®, Antek®, VELP®, Gerhardt®, AnalytikJena®, Bruker®, Buchi®,
CKIC®, Dionex®, Europa®, Hach®, Hekatech®, Metrohm®, Picarro®, Strohlein/Juwe®, TE Instruments®, Thermo Euroglas®, TSHR®, Skalar® and many others)
we can supply your needs from our extensive stocks.
We offer the most comprehensive product range available anywhere with more than 2000 products covering more than 70 different instruments - even older models that OEMs no longer support.
Our elemental analysis product range includes tin and silver capsules, quartz and glassware, reagents and catalysts, standards, ceramic and graphite crucibles,​​ O-rings and seals and much more.
All the supplies you need for the day-to-day operation of your analytical instrument.
We also offer consumables for ICP-MS which are compatible with the leading manufacturers: Agilent Technologies®, PerkinElmer®, Thermo Fisher Scientific® and Nu Instruments.
Our ICP-MS product range includes sample and skimmer cones, cones in platinum, nickel, aluminium and copper, cones suitable for hot, cold, wet or dry plasma conditions and so much more.
Our UK warehouse is stocked with high quality CRMs and consumables ready to ship to you - wherever you are in the world. All Elemental Microanalysis products are deemed to be suitable
alternatives ​in the stated OEM instruments; we guarantee high quality performance of the products we sell.

We hold ISO (International Organization for Standardization) accreditation for the following:
ISO 9001, ISO 17025, ISO 17034​​​​
All Elemental Microanalysis products are guaranteed to be of high quality and are deemed to be suitable alternatives in the stated instruments.
The use of OEM part numbers is intended for convenience only, and does not imply the products are of OEM origin.
All OEM trademarks acknowledged.
Please use our website 'OEM search' function and browse our extensive catalogues for our full range of products.
http://www.elementalmicroanalysis.com
​
Contact us if you don't find what you are looking for as we are constantly developing and adding to our portfolio of products.
제품에 대한 문의사항은 Elemental Microanalysis사​ 국내 대리점인 INA KOREA 로 연락주십시오.
(주)아이엔에이코리아
서울특별시 마포구 만리재로 110, 12층
Tel. 02-714-5456 Fax. 02-714-5457 E-mail. info@inakr.com