POINT ELECTRONIC
SEM Controls
SEM Controls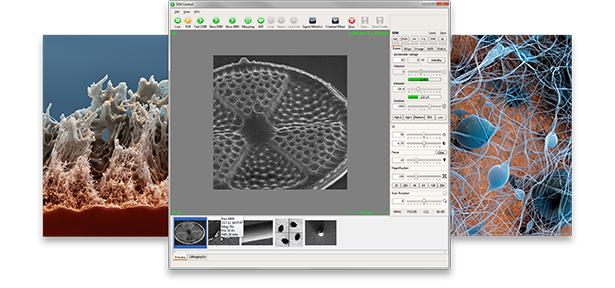 Universal and fully integrated control system for all Scanning ELectron Microscopes and Microanalysers.
​
Benefits
Take control over your microscope with new cutting-edge electronics and software, including control of all electron-optics on the column, electron gun power supply, all electron detectors, sample stage and chamberscope.
Increase reliability, reduce downtime and minimise service costs with highest quality electronics

Maximise productivity and efficiency of your SEM with integrated and universal software

Use our new automatic functions: auto-focus, auto-brightness, auto-contrast

Connect your SEM to any Microsoft Windows PC or laptop with USB interface

Use standard PC input or add the optional USB

SEM control panel

Enjoy the power and versatility of

DISS5

image acquisition software

Make calibrated measurements with the integrated

DIPS

image processing software

Automate complex dependencies between microscope control parameters

Improve the performance of the SEM with optional

electron detectors

See your chamber in operation with optional

IR chamberscope

See the third dimension in your SEM with the optional live

3D electron topography

package

Enhance your analysis with optional

structure measurement

software

Bring nanomanufacture to your SEM with the optional e-beam lithography software package
Every microscope configuration and install is carefully tailored for each customer, as microscope customization and upgrades are at the core of the company ethos.
Pictures/videos